Here's to making your job easier
Are you tired of constantly scouring the web, hunting for valuable insights and industry trends? Do you wish you had a single destination where you could access a ton of valuable knowledge without breaking a sweat? Of course, you do! Welcome to the KAM Knowledge Hub, your go-to insight resource for everything you need to thrive in the dynamic world of hospitality.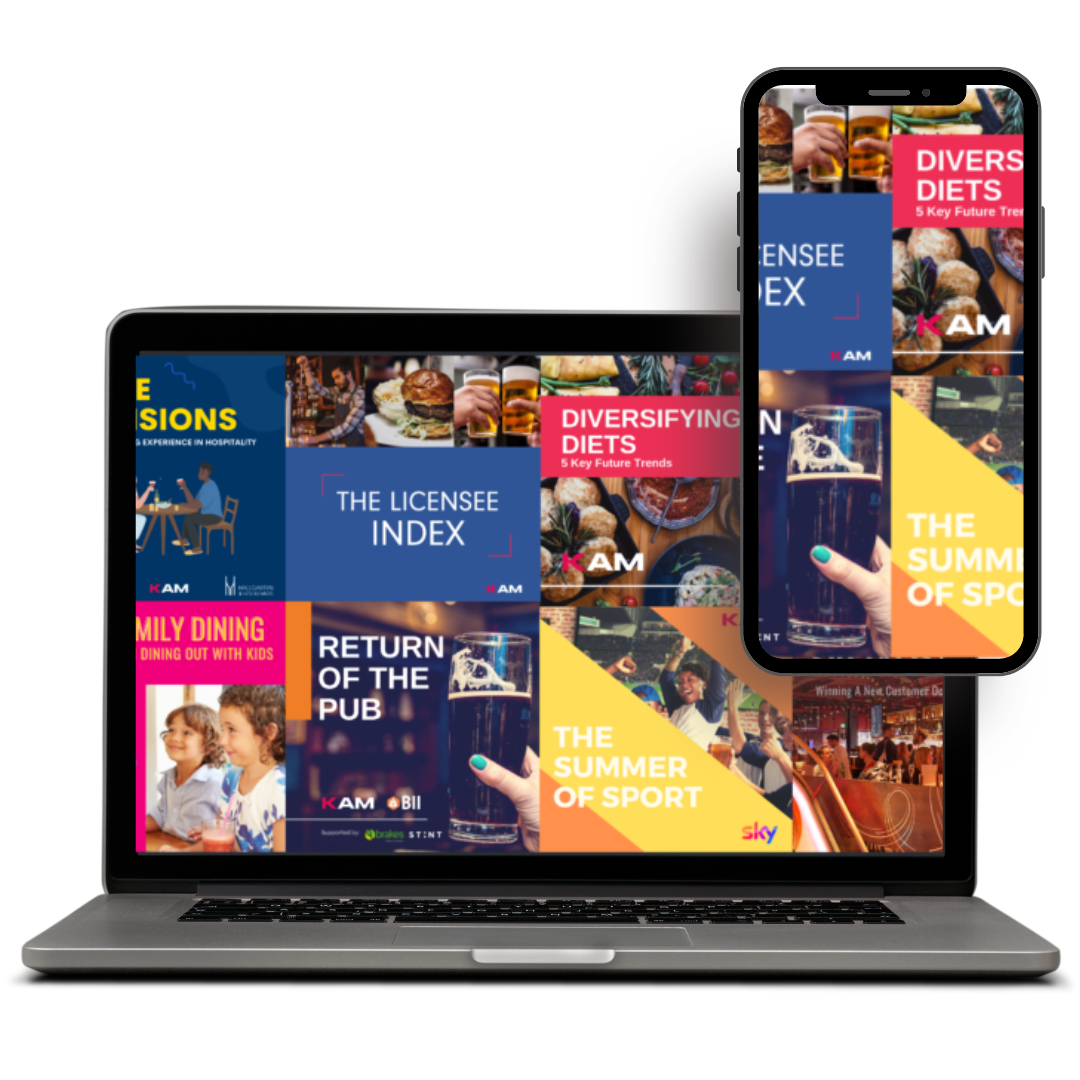 Your one-stop destination for all things hospitality research. Get ready to dive into a world of insight-led content, where the latest reports, whitepapers, vlogs, blogs, infographics, and much more are just a click away.
Our team is all over the industry landscape, regularly uncovering the trends, challenges, and opportunities that matter most.
We'll keep you one step ahead, so you can make smarter decisions and navigate the industry like a boss.
Insight Reports

In-depth research studies utilising bespoke KAM research. With visualised consumer and/or operator data, expert commentary, case studies and views from industry thought-leaders, to provide the complete picture.

Whitepapers

Tackling the hot topics with eye-catching design and headline grabbing insight that makes you sit up and take notice. Working with inspiring brands and operators to cut through the noise and get to the heart of what's happening in hospitality.
Webinars

Haven't got time to read the full report, or just looking for the key takeouts? Then let the KAM team walk you through our industry-leading research studies with our companion webinars. Bringing insight to life.

Vlogs

Hear from a plethora of industry experts as we digest, debate, discuss (and sometimes disagree!) on the hot topics shaking up the hospitality industry. Arm yourself with the big takes to inspire your teams and keep ahead of the competition.
Infographics

Wake up and smell the insight. If words aren't your thing, our simple and effectives infographic one-pagers will cut straight to the juicy stuff and provide all the key stats in one handy place. Great for sharing across the wider team and through social channels.

Easy-To-Use Members Area

You're never more than a couple of clicks away from getting your hands on the best insights for your business. Our subscriptions allow for multiple sign-ups so you can share the knowledge love around.
Get The Competitive Edge
Gain access to cutting-edge research and data-driven insights tailored specifically to the hospitality sector. Stay one step ahead of your rivals and make informed decisions that drive unparalleled success.
Stay Informed and Inspired
Our carefully curated collection of reports, whitepapers, vlogs, blogs, and infographics will fuel your passion for the industry while keeping you up to date with the latest trends, innovations, and best practices.
Save Time and Effort
No need to spend countless hours scouring the internet for relevant information. Our Knowledge Hub brings everything you need under one digital roof. Say goodbye to information overload and hello to streamlined efficiency.
12 month access to all insight content (including exclusive insight reports, whitepapers, vlogs, webinars, infographics)

Exclusive monthly email summarising the latest trends from KAM research

Exclusive recorded webinars for each new report/whitepaper

Access to all data tables for additional analysis
Access to a selection of KAM whitepapers

Access to KAM insight infographics
Your 'Access All Areas' subscription will auto-renew every 12 months. You can cancel the next auto-renewal payment for your subscription at any time during your subscription term by logging into your account and going to your profile.
Unlock the power of knowledge today
Whether you're a seasoned professional or an aspiring hospitality enthusiast, The KAM Knowledge Hub is your gateway to unraveling the secrets of success. Join our community, access invaluable insights, and elevate your career to new heights. Don't wait! Sign up for our free membership or unleash the full potential of Access All Areas and take control of your professional destiny. The power of knowledge awaits you!