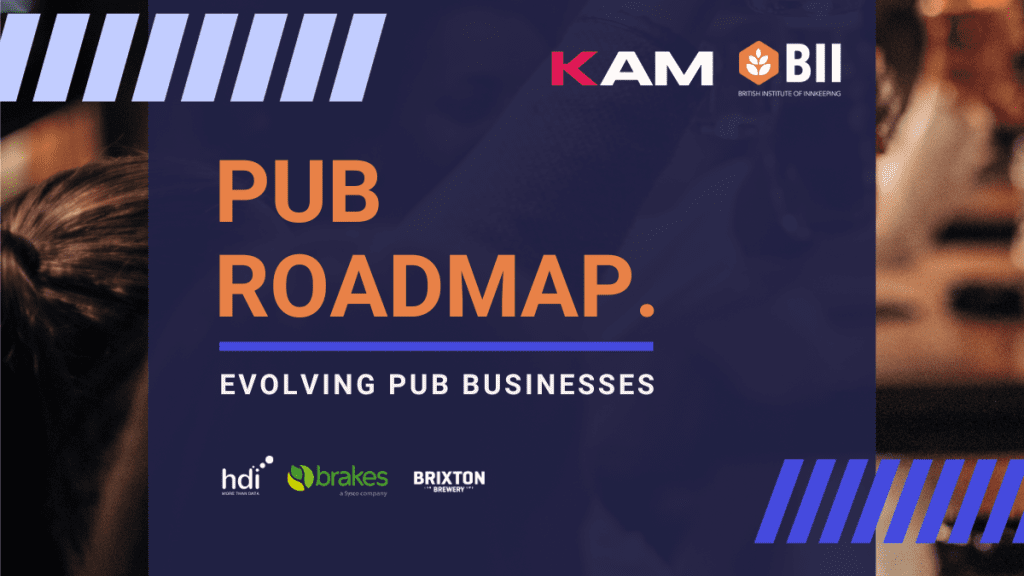 KAM have partnered with the BII (British Institute of Innkeeping) to launch the ultimate Pub Roadmap: a robust and practical toolkit for the evolving pub industry.
Supported by Brixton Brewery and Brakes, the report contains feedback from pub customers and publicans. As well as card spending data provided by Hospitality Data Insights (HDI) which tracks the debit & credit card spending of 10.2 million unique customers across 180,000 uniquely identifiable hospitality venues.
Access the 'Pub Roadmap' report here.
Steve Alton, CEO BII has commented: "Proudly partnering with the leading industry insight and research consultancy, KAM, we wanted to provide an essential toolkit, based on real data from our sector to allow operators to assess their businesses against the opportunities available to them. Consumer's needs have significantly evolved over recent years, starting with the pandemic and changing habits, through to the current cost of living crisis, and we must adapt our offer accordingly."
The report states that pubs still command the biggest share of consumer spend (29%) compared with other hospitality sectors such as fast food (16%), delivery (14%) or casual dining (5%) according to data from Hospitality Data Insights (HDI).
Share of consumer spend across core hospitality channels has remained relatively flat year-on-year, with a slight migration from pubs, casual dining and other restaurants, towards fast-food/takeaway and coffee & sandwich shops. KAM points to the impact of the cost-of-living crisis being potentially at play here with people changing how they're spending their money.
The pub customer base is levelling out
The research also found that the pub landscape is levelling out as the wider population re-engages with their locals. Overall, the pub customer base had shifted slightly in recent years; post pandemic, it was the younger people and men who were the quickest back into the on trade, but the older age groups are now accounting for a bigger proportion of spend. The 18–34-year-old age group still makes up the highest share of spend in UK pubs and bars (28%) and are the age group who visit most frequently.
Both the share of spend and visit frequency figures for this year highlight a levelling out of consumer behaviour and potentially an end to the chaos experienced over the last few years for the industry. This more stable customer base should give us confidence that the shape of the market we have now IS the shape of the market. Therefore, it represents a point in time from where the industry can use as the platform from which to grow.
Dwell time is down
The research also shows that average dwell time in pubs is slightly down vs 2022, with a net decrease of 4%, with women (-12%) and 55+ age groups (-7%) showing the strongest decline. This is likely to be driven by a bigger shift in behaviour however – the rise in drink-led compared with food-led occasions. 'Drink-only' visits to pubs have increased significantly accounting for 36% of visits in 2023 compared with 26% in 2022.
Pubs must focus on delivering quality experiences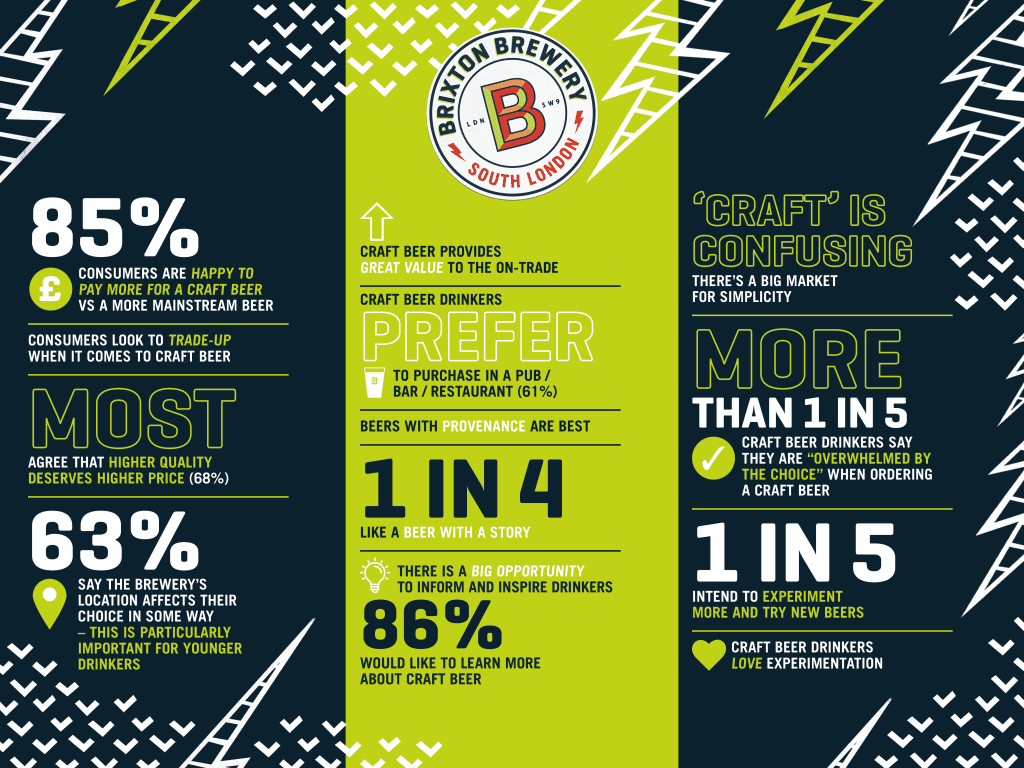 The fact we've not seen share of spend taken from pubs, suggests that the 'drinking occasion' remains a core footfall driver and is still a key differentiator for pubs compared to other on-trade venues. Pubs, however, must ensure that the focus is on delivering quality, value for money, an inspiring range and an experience that customers can't easily replicate at home when it comes to their drink offer.
Jez Galaun, Brixton Brewery co-founder comments: "Recent research with KAM showed that craft beer offers a real opportunity for publicans to drive revenue growth with a well thought out range, as 61% of people look for their craft beer fix when they are at the pub. In particular, they are after brews with a strong local connection and a compelling story; quality, premium experiences and low alcohol options.  Our mission is to unite people through the vibrant flavours of Brixton, whether they're near or far. We've always focused on crafting a diverse range of approachable modern classics, from our flagship Coldharbour Lager and Reliance Pale Ale to exciting limited-edition releases, catering to all tastes." 
Customers are sympathetic of recent prices
Despite the increased cost of a pint, the research showed that many customers are tolerant of recent price increases and have empathy with the pressures that pubs are currently facing. 76% of respondents said they expect pub prices to increase this year compared to last and 51% think it's acceptable for prices in pubs to increase in 2023 compared to 2022.
"Whilst it's reassuring to know that many customers are sympathetic to the impacts that wider social economic factors are having on the average price of a pint, it doesn't mean that they like it. 51% find it acceptable that pub prices have increased but the level of acceptance is decreasing (was 80% in 2022). In other words, pub customers, will accept price increases up to a point, but it's the value for money balance which is critical in ensuring that they are willing to pay the price."

Blake Gladman, KAM
Premiumisation and customisation remain a growing opportunity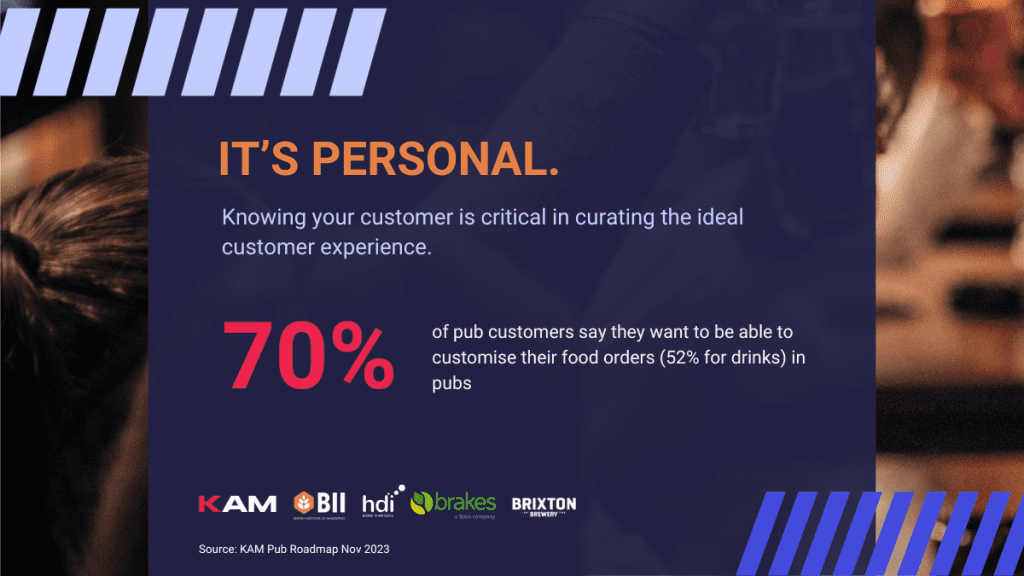 'Premiumisation' and quality is one of the significant gaps which the report identifies between what customers want and what British pubs are delivering. There is a strong disconnect between the desire from pub customers for a more premium experience and the pro-activeness from publicans in encouraging their staff to upsell premium options. This represents a huge missed opportunity for pubs to maximise the potential sales uplift.
Pub customers also want a more customised experience: 70% of pub customers say they want to be able to customise their food orders (52% for drinks) in pubs yet only 51% of publicans believe it's important for them to offer the ability for food and drink to be customised and personalised in their venues.
While carrying out this research we've seen some phenomenal examples from pub operators of how they are addressing the key consumer trends impacting customer behaviours identified within this new report, including sustainability, premiumisation, personalisation and crafting an exceptional food and drink offer. A consistency across all of these operators is how they not only listen to their customers, but also expand their thinking beyond their current customer mix to understand what more they can do to attract new consumers and to always remain relevant. The Pub Roadmap is designed to give anyone who works within the British pub industry critical insights to help them identify opportunities to evolve their businesses.
You can access the full Pub Roadmap report here.
If you're interested to access more of our hospitality research then take a look at our Knowledge Hub (lots of free insight!)